On Sunday November 20th, 2011 communities across Los Angeles County and around the world are coming together to claim sources of clean, renewable energy right in in our own neighborhoods.
Community Solar Day is a time for people to gather at a building that could generate clean, renewable energy through a community solar project. We will compile the photos of hundreds of people around the world kickstarting their projects and spread the message that community solar is here to stay. Read more.
Join us at the Mar Vista Farmers Market this Sunday Nov. 20 at 10am for group pictures to support the Farmers Market and US Post Office in switching to 100% clean energy from the Sun.
Learn how you can go solar with group discount and no upfront costs, reduce your electric bill, and help raise funds for the Venice High Learning Garden and the Neighborhood Youth Association.

FIND AN EVENT ON SUNDAY NOV. 20: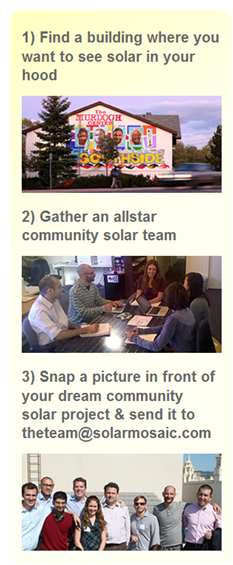 Go solar with Open Neighborhoods Community Solar and receive group discounts when you buy or lease solar panels — and raise funds for local schools, religious insititutions and other non-profit organizations. Learn more.